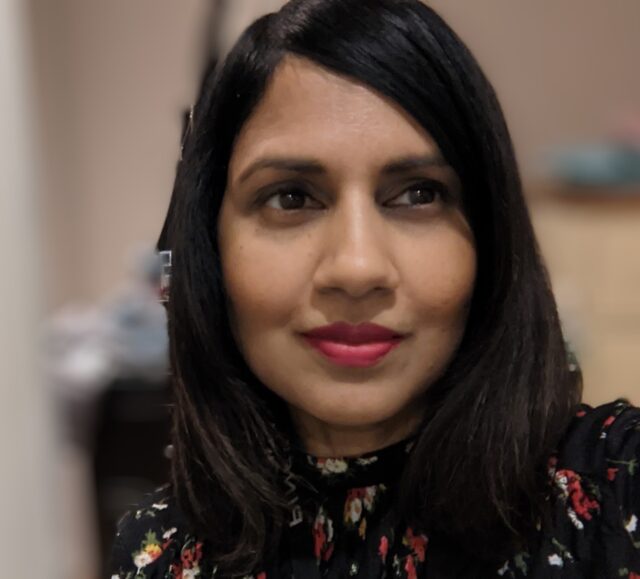 Kala Kumar
I graduated from the Iver Make-up Academy in January 2023. My recent jobs have been working on big film crowd rooms and on student commercials at the NFTS. I have been volunteering as the Hair and Make-up artist for my local amateur theatre group, and it has helped sharpen my skills to work quickly. Being a teacher in my previous career has helped me to communicate well with adults and young children. I am organised, patient, and can remain calm under timed constraints. I am looking forward to getting more opportunities in this exciting industry.
Work Experience
21/08/23 to 28/08/23. Work experience at the National Theatre 'The Odyssey The Underworld' Hair and Make-up. Supervisors Adele Brandman and Leanne Lashbrook.
13/08/23 to 14/08/23 Student Film ( MetFilm School ) The Club of Gods. Directed by Hardik Parish. Make-up and Hair for 4 actors.
18/04/23 to 20/04/23 Pinner Players ( Theatre group ) London Suite. Directed by Tony Cash, James Ketteridge, Aimee Lyons and Richard Trober. Make-up and Hair for 10 characters.
02/04/23 NFTS Commercial 'Improve your story' Directed by Patricia Garcia Buenaventura. Make-up and hair for one actor.
19/03/23 NFTS Commercial ' Improve your story' Directed by Constanca Rodrigues. Hair and Make-up for three casts.
16/03/23 -17/03/23 St Benedict's school.' Dance through the Decades' Hair and make-up for students.
13/03/23 'Hair Hanging' Student commercial Directed by Remy Archer. Hair and make-up.
20/02/23 to 03/03/23 – Studio Assistant / Iver Make-up Academy
24/02/23 – Fashion Show Make-up / For London Metropolitan University / Bold eye makeup and hair
13/02/23 to 16/02/23 -Film 'MY LADY JANE' Crowd Room Supervisor Richard Muller / being on set, cleaning wigs and blocking wigs, coffee and breakfast runs took photos for continuity.
16/02/23 to 18/02/23 – Pinner Players ( Theatre group ) Blythe Spirit / Directed By Sue Cash / Make-up for five characters
30/01/23 to 31/01/23 – Film 'RINGS OF POWER' in Crowd room with Supervisor Allison Sing / Applying dirt make-up and being on set, organising stock.
29/12/22 – A&B Film Studios / Student film 'CITY TWIST' Directed by Aaron Collict. Special effect make-up, bruises and cuts.
17/11/22 to 19/11/22 – Pinner Players ( Theatre group ) 'The Ferryman' / Directed by Simon Cash / Character make-up and dirt
18/05/22 to 21/05/22 – Pinner Players ( Theatre group ) 'One Man Two Guvners' / Directed by Aruna Clinch / Make-up for eight characters
Education
Bald Cap weekend with Adrian Rigby 17- 18 June 2023
Diversity, equity and inclusion for the screen industries. ScreenSkills April 2023.
Introduction to Mental health awareness. ScreenSkills April 2023
Foundation Certificate In Make-up And Hair Artistry 05/09/22 to 20/01/23 at Iver Make-up Academy.
Fashion and Beauty Make-up and Hair Artistry 05/09/22 to 20/01/23 at Iver Make-up Academy.
Kryolan day workshop. Celebrity Media 09/06/22
Kryolan day workshop Asian Bridal l25/04/22
Kryolan day workshop Theatrical Character 23/03/22
Lisa Eldridge workshop with Marcos Gurgel . Strictly Make-up' 13/12/21
Lisa Eldridge workshop 'Night of the Make-up Museum' 22/11/21
Post Graduate Certificate Of Education 1991-1992
BA Organisation Studies 1988-1991
Years of Experience
Make-Up

-1 years

Hair Dressing

1 year

SFX

1 year

Prosthetics

1 year

Barbering

Less than a year

Wig Dressing

1 year

Airbrushing

1 year

Body Art

1 year
Other
IT Skills

Word

Languages

English and Gujrati

Areas can work in

All areas

Driver License

Clean driving licence

References

Elizabeth Tagg-Wooster, Principal email Liz.Tagg@iveracademy.co.uk