Behind The Scenes On Judy: Working On A Bafta And Oscar-nominated Film
Friday, March 6, 2020
When Renee Zellweger won an Oscar, Golden Globe and BAFTA for her portrayal of movie legend Judy Garland, few were surprised. Her phenomenal transformation into the tragic icon was aided by the meticulous planning of Jeremy Woodhead and his team of hair and makeup artists (also known as HMUAs).
We caught up with Renata Gilbert, a hair and makeup artist who worked on the makeup team of Judy, to gain insight into recreating the feel of London in the late 1960s and a 1930s Hollywood movie set. We also quizzed her on the advice she has for other budding HMUAs and how they can create a career for themselves working on BAFTA-winning films.
Renata has more than 20 years' experience in the film and TV industry and has worked on the sets of 'Bohemian Rhapsody', 'The Danish Girl', 'Zero Dark Thirty', 'Avengers: Age of Ultron', and 'Game of Thrones'. She's also one of the tutors at The Iver Makeup Academy, with 12 years of experience teaching everything from SFX prosthetics to hair artistry, so she is a true master of her craft.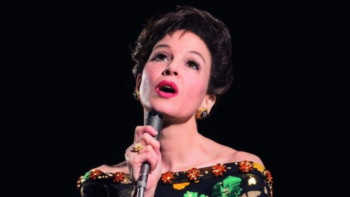 Renee Zellweger as Judy Garland. Photo credit: LD Entertainment and Roadside Attractions
Joining Judy
Renata was contacted by the makeup designer Jeremy Woodhead, who asked if she would assist him on Judy. Alongside Deborah Jarvis and Robb Crafer, Renata was part of the team on the main bus looking after the lead actors. She specifically looked after Jessie Buckley, who played Roslyn Wilder, and Gemma-Leah Devereux, who played Judy's daughter Liza Minnelli.
"I also looked after quite a few of what we call 'day players', those who film for just one or two days. Barbara Taylor was the crowd supervisor with her trainee George Hobbs and IMA graduate. There were many more HMUAs employed as dailies to look after supporting artists."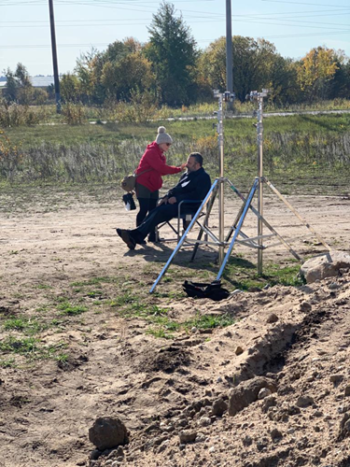 Renata working (not on Judy)
Getting the look right
Preparing the hair and makeup for the film involved extensive research because of its biographical nature. Renata explains her process: "After reading the script and speaking to Jeremy, I did my historical research. The film focused on 1969 and 1938 so I needed to get a complete feel for these periods. Once I knew which actors I was looking after, I researched those people in more depth as they were actual people."
"On this project, I was hired as a hair and makeup artist and not a designer." Renata explains, "I didn't have the initial concept discussions as that is the responsibility of the makeup and hair designer (Jeremy Woodhead). These discussions take place well ahead of the filming so that all the looks are prepared and signed off. Jeremy then discussed with me how he wanted the hair and makeup to be for the characters I was looking after."
The challenges of bringing the look to life
Judy focuses on the last few years of the singer's life as she arrives in "Swinging Sixties" London for a sold-out residency at the Talk of the Town nightclub. At this stage in her life, Judy Garland was in her mid-forties but ravaged by years of drugs, disappointment, and hard-living.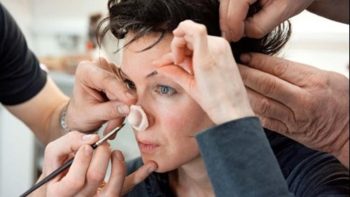 Renee Zellweger transforming into Judy Garland. Photo credit: David Hindley / LD Entertainment and Roadside Attractions
This presented a challenge in making the flawlessly fresh-faced Renee Zellweger look beleaguered and past her prime. The actress was given a brunette short-cropped wig, dental retainers, strategic jaw shading, in addition to eye bags shaded in, prosthetic nose and creasing to create the distinctive features of Judy Garland.
"I think the biggest challenge was getting Judy, played by Renee Zellweger, to be the most convincing. She was such an iconic person in recent history that the audience had to totally accept her and not find fault. However, each character is just as important as they all had to be real."
We asked Renata about the effects that different lighting has on makeup."Makeup can look different under different lighting conditions so it is important to adjust accordingly. There is no colour without light. On a darkly lit set, some details do not read, therefore they may need to be adjusted. Similarly, strong sunlight can bleach makeup, and therefore, more colour may be needed."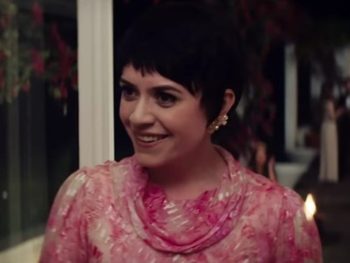 Gemma-Leah Devereux as Liza Minnelli. Photo credit: Roadside Attractions
What makeup techniques and skills were used?
The hair and makeup artists working on Judy had a diverse array of skills. All of the makeup and hair techniques can be learned at The Iver Makeup Academy.
These included: "Tattoo cover, bald cap, silicone prosthetic application, wig application (real and acrylic), heated roller and hot stick period hair sets, dressing out sets, period makeup, false eyelashes, blow-drying, haircutting, afro hairdressing, facial hair application, and dressing, laying on hair, blocking out eyebrows, and tears."
However, other skills are also important when working on a big production like Judy.
Renata suggests that working well with others is an essential factor that will help new hair and makeup artists stand out and get more jobs. She also shared the importance of soft skills, which include "being mindful, punctual, a good communicator, team player, having a good sense of humour, resilience, lateral thinking and stamina."
Tips for working as a movie makeup artist
Everyone has a different path into hair and makeup artist careers in the film and TV industry. However, few make it without the guidance of tutors, mentors and comprehensive training.
Renata explains her own journey: "I trained back in 1989 at Greasepaint Makeup School. The Iver Makeup Academy was set up by staff and tutors from Greasepaint when it's founder Julia sadly passed away."
You might be surprised to learn that makeup artists don't necessarily start with stage and screen gigs. "After gaining my skill, I broke into the film industry by a lot of hard work. I took on anything and everything associated with makeup, from face painting at Chessington World of Adventures to helping out at local amateur dramatic productions and weddings."
When it comes to raising your profile, Renata recommends working hard and staying at the forefront of your peers' minds. "I stayed in touch with the people I trained with who I could help and visa versa. Somewhere along the road I got to where I am now. I just never gave up; it was always a case of when and not if."
Want to find out more?
If you want to work on BAFTA and Oscar-nominated films as a hair and makeup artist, take a look at our film and TV makeup courses. Or get in touch with any questions.