Life on Stage with Sarah-Jane Pucci
Being a makeup artist in theatre can be an incredibly rewarding and challenging profession. It requires a keen eye for detail, creativity, and the ability to work under pressure to create stunning makeup looks that enhance the actors' performances and bring the characters to life. 
Sarah-Jane Pucci, one of IMA's academic consultants, has worked on many theatre productions from The Exorcist at The Pheonix to Romeo & Juliet at Regents Park Open Air Theatre as well as Film and TV. We asked Sarah some questions about her work within theatre and her path into the industry.  
What first made you want to begin working in the make-up industry? When was that, and how old were you?
 Growing up in the 90's I was obsessed with 'Buffy the Vampire Slayer' and the monsters and demons in the show – I wanted to help create that in some way. When 'The Lord of the Rings' came out in the early 2000's when I was a teen, with behind-the-scenes extras showing the world of make-up and prosthetics – I knew that's what I wanted to do. 
What courses did you do?
I studied Art and Design Technology (as well as music) as my A Levels and then enrolled at an Art College to focus on 3D design and body painting. I then went on to do a degree at London College of Fashion in Make-up, Hair and Prosthetics for Performance.    
What was your favourite element/subject throughout your studies?
When I was training, I really zeroed in on out-of-kit SFX and Prosthetics being my main focus, but as I started to get into the industry and working in theatre it really helped me become an all-rounder
What releases have you worked on within theatre and film?
Most recently I supervised the plays 'Further from the Furthest Thing' and 'The Collaboration' both at The Young Vic Theatre as well as co-supervising with Suzanne Scotcher the Olivier Award winning 'Tammy Faye' musical. For screen the newly released I worked on were 'Antman and The Wasp: Quantumania', 'The Man Who Fell to Earth' and 'Stath Lets Flats'. 
What has been the favourite theatre project that you have worked on so far?
A tough one to answer… 'Force of Destiny' at The English National Opera will hold a spot in my heart as the goriest show I got to be Blood Supervisor on. 'Sunset Boulevard' was visually and musically the most emotional, but probably 'The Collaboration' was my favourite as I had to find a way of creating full body scars in a 15-minute interval at the same time as a wig and microphone change. 
What aspirations do you have in terms of future projects?
I love to learn. New techniques, new products, different ways of doing things that save time in limited time situations. When designing shows, I try to not to say no to anything, and find a way to make the impossible possible, but also bringing the team together to skill-share and work organically.
What is your favourite theatre show?
To watch… probably the Raymond Gubbay version of 'Madame Butterfly' – stunning design. Also, again, 'Sunset Boulevard'- the blend of musical theatre with old Hollywood style and movie set design was incredible.  
What is your favourite theatre show in terms of the make-up and effects and why?
The 2017 'The Exorcist' adaptation had some amazing make-up effects which also had to blend with theatre magic to create scenes such as the head spinning scene. 
What is your favourite theatre genre in a professional sense and why? Why do you enjoy working in this particular genre?
I adore opera. Not only do you not have to contend with microphones in wigs, but the range for design within opera is unlimited! The music is incredible (with full orchestra) and the partnership of set/costume and wigs/hair/makeup creates something very special and visually a feast. 
Being a makeup artist in theatre requires a unique set of skills and talents. It involves a deep understanding of the characters and story, as well as knowledge of the tools and techniques necessary to create the desired looks. Makeup artists in theatre must be adaptable, creative, and able to work efficiently under pressure. They are an essential part of the creative team and play a crucial role in bringing the production to life. The rewards of being a makeup artist in theatre are immeasurable, from seeing the actors transform into their characters to the satisfaction of a successful production. It is a challenging but incredibly fulfilling career path for those with a passion for both makeup artistry and the performing arts.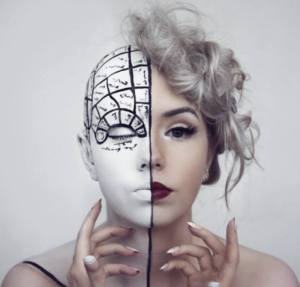 If you want to learn more about how to become a makeup artist within Theatre,  have a look at our range of courses. Don't forget to keep an eye on our website and social media for our next Open Day. If you have any enquires or questions please click here.