My First Job In Film
Friday, July 7, 2017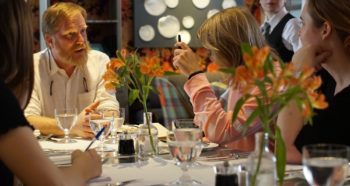 A group of members from My First Job In Film attended the organisation's first-ever Academy day earlier this month in Soho, benefiting from one-to-one career advice and a rare opportunity to take part in an intimate Q&A session with not one but two UK award-winning film producers.
My First Job In Film is the UK's largest online community of new filmmakers and a service that is making strides to ensure that the film industry in the UK is open to and representative of the UK's diverse society, no matter what your level of experience.
They set up the brand new Academy scheme in response to a demand from their members for a more in-depth opportunity to develop their own network and benefit from advice.
The group enjoyed an intimate and honest discussion with Producer Richard Holmes over lunch, with the opportunity to ask the award-winning producer whatever they liked. He said "My first meet-up with a My First Job In Film cohort was great fun. The members were an impressive, focused and realistic group of filmmakers wanting very specific advice about what they wanted to achieve. It was a rewarding event and I'd do it again". The day ended with an informal discussion with Saving Mr Banks Producer Paul Trijbits, who also offered each member of the group invaluable advice and feedback.
My First Job In Film's mission is to give new filmmakers the best possible start in their film industry careers, addressing existing skills shortages and tackling the lack of inclusion in the screen industries in the process, things that Managing Director Susan Finlayson-Sitch is passionate about. She said: "The Academy day is the latest addition of support for My First Job in Film members to positively help them to overcome the barriers they face breaking into the industry.
Our commitment to the continued development of new entrants has become a conveyor belt of practical support – including mentoring, training, and preparing and providing jobs for both recent graduates and emerging industry
The Academy day was a successful first in what will be a series of informative and inspirational events going forward."
You can find out more about My First Job In Film and keep up to date with future events, including Academy Days and networking sessions, by visiting www.myfirstjobinfilm.co.uk and creating a free profile.
As well as promoting the latest job opportunities available in the sector, the site offers a wealth of career resources including in-depth career guides, CV advice, a screening room that showcases members work and competitions.