Pinewood Studios 

Futures Festival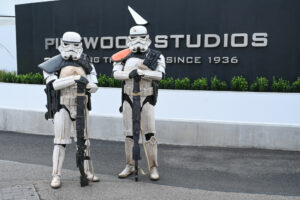 The Iver Makeup Academy is one of the top Makeup and Hair training schools for Film and TV who are based in Pinewood Studios the heart of the British film industry, where some of the most successful feature films and TV shows have been made. 
On the 18th– 19th November, Pinewood Studios opened their doors to the public and held a fantastic Futures Festival, for people with a passion to start a career in the Film and TV industry. Around 2000 people from all over came to the event and they had a variety of exhibitors, workshops and industry talks from huge names including Sony and Disney. 
The Iver Makeup Academy had a stand in one of the film studios in which we displayed our students and graduates work and ran a variety of live demos. On the Friday we had three demonstrations: The Joker created by our graduate Daisy Gassner, a Viking by our Principal Liz Tagg-Wooster and a Revenant inspired look by graduate Nicole Milton. Our team spoke to many people all about what we do at The Iver Academy and working in the Film and TV industry.
On the Saturday we had more brilliant looks created a Captain Jack Sparrow by graduate Millie Chapman, a period drama character by IMA Tutor Christine Vidler, an Editorial 1950s by Tara Rodwell and an SFX and character look by Liz. Graduate Daisy Gassner also did a small talk about SFX and a demonstration with direct applied silicone.
Pinewood Studios also had many Star Wars characters walking around the studios greeting everybody, the Storm Troopers even paid us a visit at our Academy take a look at the images below.
If you didn't get a chance to come and see us or want to visit us again, we run our own Open Days and Taster Weekends termly.
For those who are still under 18 but have a passion for the industry, we run SFX Workshops. Don't forget to check out our Instagram to see more photos from the day. 
Photos – Progressive Photography by Steve Jolliffe