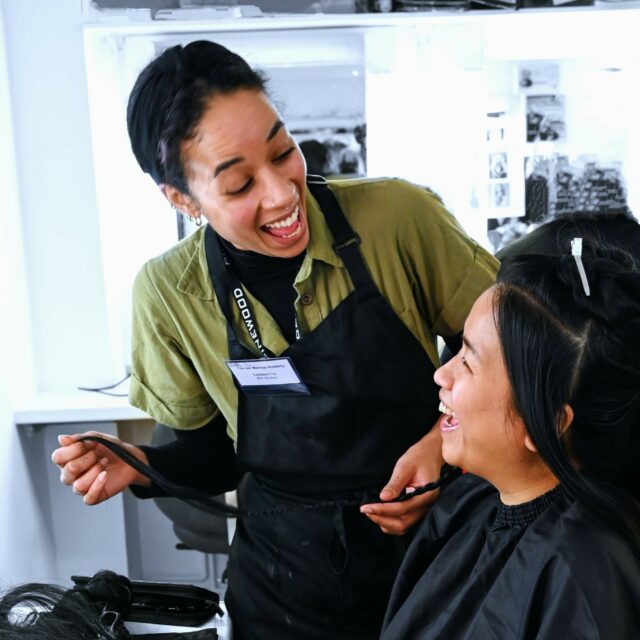 Candase Fox
I am a highly motivated and hard working woman in my thirties, who is passionate about establishing a successful career in hair and makeup artistry for theatre, television and film. I am naturally creative, with many transferrable skills such as communication, team working, accustomed to long hours and knowledge of anatomy, wounds and illness, as a result of my previous career in Nursing. I also have experience in makeup and hair care/ styling for diverse skin and hair types, including afro and textured hair. The opportunity to continue to learn and further develop my craft and associated necessary skills, in order to be the most helpful and productive trainee and eventually artist is something I find exciting and look forward to in my career.
Work Experience
My Lady Jane Pictures LTD, Pinewood Studios – Trainee (Crowd Room Daily)(13th – 16th February 2023)
Experience working in a crowd room and on set
Setting up/ organising wigs, hair pieces, fitting sheets, equipment and consumable supplies
Assisting artists
De-rigging
Cleaning facial hair pieces
Blocking wigs
Team working with other trainees and artists
Using own initiative to facilitate smooth running of others work
Prosthetics photo shoot, Iver Academy – Makeup artist (9th February 2023)
Applying and colouring encapsulated silicone prosthetics for a professional photo shoot
Pieces sculpted and moulded by myself prior to the event
Open Day, Iver Academy – Hair and makeup artist (28th January 2023)
Planning, preparing and making hair pieces prior to the event
Braiding models hair and attaching pre-made pieces
Character makeup application
Fashion photoshoot, Iver Academy – Hair and makeup artist (18th – 20th January 2023)
Applying fashion and beauty makeup to models for a professional photoshoot
Hair styling for diverse hair types
Working to a timeframe while completing looks to a high standard
Halloween Event, Pinewood Studios – Face Painter (20th October 2022)
Designing a selection of Halloween themed face painting looks
Completing looks on Event attendees within a limited timeframe
Private clients – Hair stylist and makeup artist (Until Present)
Hair cutting and styling
Afro and textured hair care and styling
Braiding and protective styling
Event makeup
Creative makeup and hair
Education
The Iver Makeup Academy – Advanced Certificate in Hair and Makeup Artistry
September 2022 – April 2023
Nursing BSc Honors Degree – The University of Hull
September 2009 – October 2012
Years of Experience
Make-Up

Less than a year

Hair Dressing

1 year

SFX

1 year

Prosthetics

Less than a year

Barbering

Less than a year

Wig Dressing

Less than a year

Knotting

Less than a year

Airbrushing

Less than a year

Body Art

1 year

Other

I have selected one year or less for the above as this is the period of time I have been undertaking professional work/ have had formal teaching. Prior to this I have been self taught and created hair and makeup looks for personal clients, events and creative projects. These projects have including braiding, face and body painting, beauty makeup and hair styles, Hallowe'en and character makeup creation.
Other
IT Skills

Computer literate, including: populating and formatting spreadsheets and documents, basic photoshop, internet, emails, troubleshooting

Languages

English

Areas can work in

Anywhere

Driver License

Full UK Drivers Licence

References

Liz Tagg-Wooster info@iveracademy.co.uk Tamsin Barbosa tamsinbarbosa@gmail.com