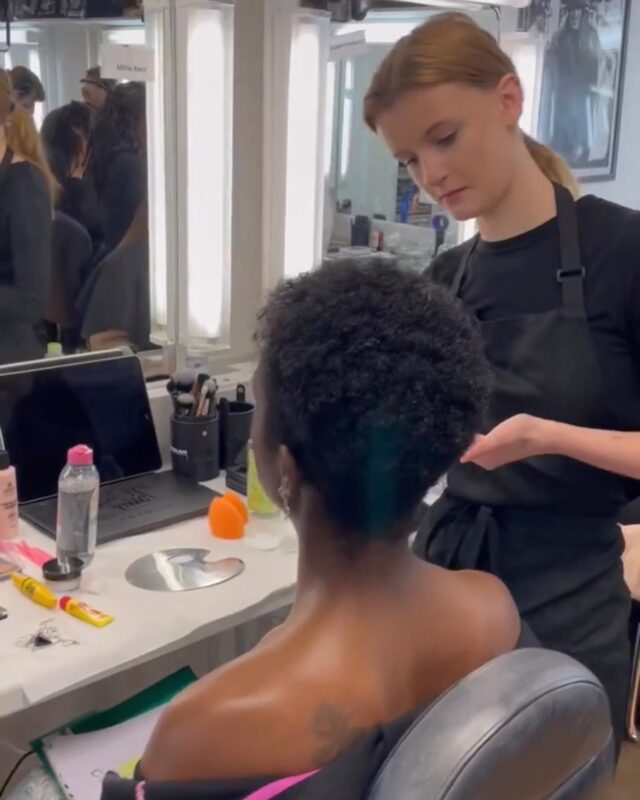 Millie Rock
Hair and Makeup Artist Trained at the Iver Makeup Academy, Pinewood studios
I am confident in working under pressure. I'm a fast learner and will assist in any way that would be required of me to help lighten the general workload of the day to day tasks of the makeup room. I have always been a people person, I'm very comfortable with the faced past environment and the long hours. I am London based, flexible with times and dates, very capable of assisting but is also capable of taking on tasks in a crowd room doing Hair and makeup.
Found a love for prepping setting and styling large Period wigs for both film and theatre. Wet setting and heat applying sets to create the same look – 30s 40s 50s. Creating characters with wounds and bruises or fake eyelashes and hair pieces. Airbrushing graphic shapes, flawless base, contouring. I also have taken part in a 3 week process for prosthetics on how to make them, sculpt and apply. and the same with fashion but learning about head shape with contouring, skin matching for flawless base, and exploring editorial looks.
Work Experience
'Internal Bleeding' Student Film Daily – May 2023
Royal collage of Music Opera, Wig Assistant Trainee – May 2023
Fashion shoot
Prosthetic shoot
'This Time next Year' Daily trainee Makeup Artist Crowd – June 2023
Crowd Daily Trainee for TV – July 2023
Education
2023 Makeup and hair certificate: Makeup and Hair – The Iver makeup academy, Iver
Years of Experience
Hair Dressing

Less than a year

SFX

Less than a year

Prosthetics

Less than a year

Colourist

Less than a year

Barbering

Less than a year

Wig Dressing

Less than a year

Knotting

Less than a year

Airbrushing

Less than a year

Body Art

Less than a year
Other
Areas can work in

Anywhere

References

Liz Tagg- info@iveracadamy.co.uk Tamsin Barbosa- Tamsinbarbosa@gmail.com Lauren Clark - laurenclarkmua@gmail.com