Proms
Thursday, August 18, 2016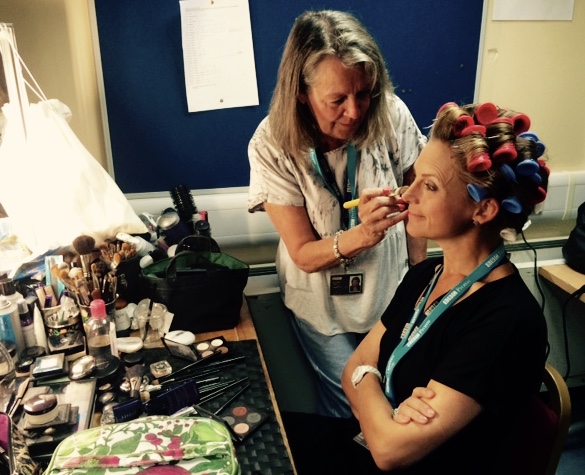 Katie and Christine
Academic Consultant Christine Vidler has been working with BBC Proms for 17yrs now and has got to know everyone from conductors to soloists on the performing side, as well as being Lead Designer on any presenters and guests.
The diversity and range of the proms has developed and changed over the years, now including jazz proms (Quincy Jones, Jamie Cullum), David Bowie tribute, children's proms and of course the classical traditional proms.
There are more than 90 concerts broadcast live on Radio Three over 8 weeks between mid July to mid September.  and 1/3 of these are televised.
There is a lot of prep prior to the season starting and each prom is different.  Christine will need to work out how many assistants are required for each prom and her entire kit would be taken into the Royal Albert Hall for the day before the first night.  The kit would then stay there until after the very last performance.
A typical day for Christine would be to arrive for the orchestra rehearsal and set up the call times for all soloists.  Christine would be in charge of making up the presenters and her assistants would be working on the soloists.  As some of the proms are broadcast live, there is no room for error and make up and hair needs to be right first time.  The pressure is on!
Christine is also involved in the weekly magazine programme Proms Extra which is broadcast every Saturday.  It's a type of chat show with celebrity guests who will comment on the previous week's performances and is presented by Katie Derham.
All in all, a busy time for Christine!