Student Success: Aimee Sampson after Graduating from IMA
The Iver Make-Up Academy is the leading training schools in the UK. We teach you all the skills you need to start your career in Makeup and Hair for Film, TV, Theatre and Fashion. We are extremely proud to have so many successful graduates excelling in their careers, using all their knowledge and skills attained when studying at our Academy. 
With Oscar season in full swing, we asked one of our IMA Graduates, Aimee Sampson, who worked as a Hair Trainee on the Oscar Nominated film 'The Batman' alongside designers such as Pat Mcgrath and Naomi Donne, some questions about her time at The Iver Makeup Academy as well as her exciting career after.  Aimee completed the 30 week Advanced Certificate in Makeup and Hair Artistry back in 2019.
What first made you want to begin working in this industry?
I've always enjoyed getting dressed up and doing my hair and makeup for costumes, but I think I really got into it at 15 years old when I discovered Marilyn Monroe, Audrey Hepburn and all the other Hollywood stars of the 1940's and 1950's. I began researching, collecting books and images. I started watching YouTube videos and copying pin curl sets on my own hair. I realised this was something I really enjoyed and would like to pursue as a career. I investigated various avenues and routes into the theatre and film industry then decided an apprenticeship in Hairdressing would be a good start. After completing a Level 2 and Level 3 NVQ in hairdressing, I worked 3 more years on the shop floor to gain more experience and save money.  
How did you find out about The Iver Makeup Academy?
 After a while I decided it was time to move on and kickstart my career in Theatrical Makeup and Hair. I came across the Advanced Certificate in Makeup and Hair Artistry course on the IMA website. This had modules I was very much interested in, so I emailed an enquiry and received a lovely response asking me to come along to Pinewood Studios to have a meeting with the Tutors and the Vice Principal Tamsin Barbosa. I couldn't wait to get started! 
What was your favourite moment whilst studying at The Iver Makeup Academy?
I loved having the opportunity to go to set with the tutors near the end of the course and experience working on a real film. We were lucky enough to join Tamsin, Robb Crafer and Jeremy Woodhead on 'Morbius' for a work experience morning. I just loved being at Pinewood Studios and seeing all the film stages, it felt like you were right in the middle of all the movie magic!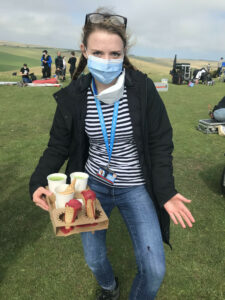 What releases have you worked on since graduating?
 I have been lucky enough to work on a few different films and television shows since graduating, in a full time and daily capacity.  
I was fortunate enough to work on 'The Batman' as my first contracted job as a Hair Trainee. It was an amazing experience which consisted of dressing actors' hair and doing checks on set, applying stunt wigs to performers, blocking and dressing wigs for cast and stunt doubles. Also working with a new team meant I could gain valuable skills and experience from them. This job ran from November 2019, stopped because of the COVID-19 Pandemic and resumed in August 2020 to then finally wrap in March 2021. It was a long time to work on one production and presented lots of challenges including learning new health and safety protocols because of covid. Working on this feature film led to many more job opportunities. It was a great experience and I feel very privileged to have worked on it.  
What was the most challenging project you've worked on?
I would say a production that hasn't been released yet. It was physically hard as there were very large crowd days which meant very early calls! We were constantly changing locations so had to pack down the crowd room every night to then re-set again the next day. We were often battling the elements with cold weather and exposed filming locations which was quite exhausting. But we had such a great, talented team to swap out shifts and share the load, to laugh and have a cup of tea in the afternoon with! 
What aspirations do you have in terms of future projects?
It would be great to do another full-time crowd position as I'm almost finished on a main team job and would love to get into that creative crowd spirit again. I've been wanted to do something colourful and creative, or a beautiful 1930's/1940's period hair job! 
We would like to say a massive congratulations and good luck to all the Makeup and Hair Oscar Nominees of 2023!
Looking to start your own career in this industry?
If you want to find out how to start your career in this industry, take a look at our variety of courses or sign up to our next in person Open Day. If you have any other questions, please don't hesitate to contact us.