A Day In The Life Of A Makeup Artist
Wednesday, July 18, 2018
Life at The Iver Makeup Academy doesn't end with graduating. Because students have the chance to train under working designers from TV and film, theatre and fashion industries, they already have an in with the industry as they start their career as a makeup artist.
Iver tutors have the chance to see first-hand the skills and expertise of the students they teach, putting them in a position to offer work experience and placements they know graduates will excel in.
And this has helped graduates bag a whole range of jobs after leaving the Academy.
Jenny Watson is one former student who has gone on to carve out a career for herself in makeup and hair for TV and film. Since graduating, she's worked as a trainee on the 2018 Oscar-winning feature film 'The Darkest Hour', famous for its ground-breaking special effects makeup.
Most recently, Jenny has been working on the second series of period drama 'Harlots', starring Liv Tyler and Lesley Manville.
We caught up with her to find out what a typical day is like for a trainee makeup artist on the set of a hit TV show…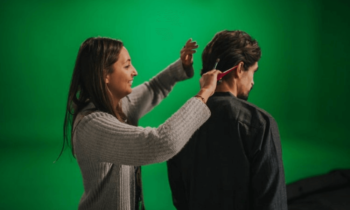 Photo by Ian Wallman
Prep starts the night before
8.30pm – "Before starting any job, I always make sure that I have everything packed and ready to go the night before as I'm normally up and out early. I live in south Lincolnshire, so I either have to leave really early, or stay with friends closer to the filming location.
I pack all my kit up the night before filming, so I can get the most amount of sleep possible! I look at the call sheet which is sent out the night before. This is a kind of schedule that tells me what time the actors/supporting artists are in, the shooting hours and whether it is a 10,11 or 12-hour filming day, the location of the shoot and the scenes we are shooting as well as lots of other useful information."
Makeup artists are usually the first to arrive
6.30am – "Harlots filming days are mostly 8am unit calls. This means that they start filming at 8am. However, makeup and hair take time, especially on period dramas so I'm usually in work for 6:30am.
Once I have arrived at the location I make sure there are call sheets or sides (small sections of the script that are being shot that day) for all the makeup artists. I also check that there are enough stations set up for the artists to work at and turn on all the hot equipment to make sure everything is ready for the call.
Harlots is set in 18th century London, so there's a lot of period wigs to get ready before the actors arrive, and I'll have continuity sheets to hand so the artists know which look they are doing."
The actors arrive for their call time
8.00am – "During the call I make sure the makeup artists have everything they need, including doing the breakfast/tea and coffee run as well as doing the hair and makeup for the supporting artists (extras, but they're not called that anymore).
On the main team, each actor is assigned to a makeup artist and they look after them throughout the day, but in a crowd room anyone can makeup anyone. I work on a lot of the men's looks, ranging from simple pulled back wigs, to the upper-class characters who have more flamboyant makeup and wigs.
I work with the crowd 2nd assistant director who organises the supporting artists as well as the costume department to co-ordinate our work, as the actors need to be in costume before the wig is put on."
We have to be on-hand at all times
"Once the call is done, it's time to go to set.
We quickly eat our breakfasts, do final checks and pack up our set bags with the makeup and tools we will need for the day. There are a lot of makeup artists in a crowd room, so we go down to set in shifts.
On set we watch the shots on the monitor and go in for checks when needed to make sure everyone looks great. I also take continuity photos of the supporting artists if needed. I usually spend the morning on set, which is one of my favourite parts of the job.
13.30pm – Filming is usually a semi-continuous day so we get around half an hour lunch break where we recharge."
Period dramas call for a lot of wigs
2.00pm – "After lunch I help with any checks needed, which is normally to neaten up actor's hair and a top-up of lipstick. Then, the afternoon is spent preparing whatever I can for the next day of filming.
I'll speak to the crowd 2nd to see if they know which supporting artists are in the following day and get a bit more information from the call sheet on the next day's scenes, so I know exactly which looks will be needed.  For bigger scenes, like parties, a lot of supporting artists are required which means getting a lot of wigs ready.
I pull out all the wigs that will be needed (that are not in use on set that day) and neaten up or re-set them along with the other makeup artists.
I also talk to costume to see what hats they are using the next day as this will affect the hairstyles. Once everything is as sorted as it can be, I make sure everyone's stations are tidy and that we have plenty of stock – especially tissues and wipes because these go fast!"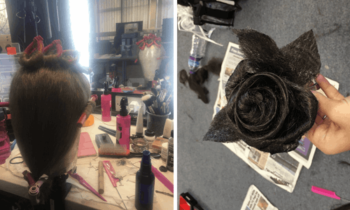 Wrapping up
"Once the supporting artists have wrapped for the day, they come back to the crowd room to be de-rigged. This includes taking off their wig and makeup and brushing through hair.
20.00pm – We then re-dress any remaining wigs that are needed for the next day that were being used in filming. Finally, we turn off all our equipment, check the new call sheet and head home for the night. It's usually eight in the evening by the time all the supporting artists are de-rigged, and everything is ready for the next day.
Filming is a long day, but it goes so quickly and there is always so much to do, especially in a crowd room. It is such a great job – I'm never bored, and I get to do something different each day.
I love doing hair and makeup, especially period hair and makeup and it's an amazing feeling to be part of the crew, getting to know everyone and working together with every department to make something great! I really am so lucky to be doing a job I love."
Find out more about the career support at The Iver Makeup Academy, or get in touch to talk about your future as a makeup artist.