How To Be The Best Trainee Makeup Artist On Set
Monday, June 24, 2019
Your first trainee role on a TV or film set is a big deal. You've worked hard to learn your craft and you're raring to get out there and put it into practice.
But it can also be daunting, and those first day nerves are sure to rear their head. So to help you out, we asked the experts and created this handy guide to being the best trainee on set, so you can get an idea for the etiquette, and know exactly what to expect.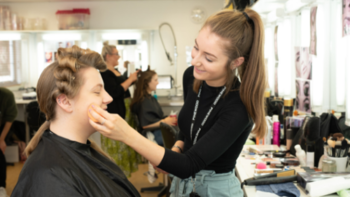 The day before:
There's plenty you can do to prepare the day before a job –
Plan your journey
Make sure you leave yourself plenty of time to get to set by planning your journey the night before.
A quick check on Google Maps will give you a rough journey time, and if you're taking public transport, make a note of any stops and changes.
Know when you need to arrive
Double check the time you're due to arrive, just in case as the crew call may well be later than the makeup call. Being late won't make a good first impression and the people you work with on one job could hire you again for another production so be sure to be on time.
Our principal, Liz, explains: "There's a lot of competition out there, you may be an excellent hair and makeup artist, but if employers aren't impressed by your attitude, they likely won't ask to work with you again. Treat everyone with respect as your co-workers may be your boss in years to come."
Research the team you'll be working with
It's also good to have a bit of background knowledge about the people you're working with. Check out their IMDB page and take a look at some of the previous projects they've worked on.
Research the makeup and hair
Some projects can be quite secretive and until you arrive on set you may not know exactly what the TV or film production is. You will be expected to carry out general duties and may not be asked to work on actors makeup and hair to begin with.
You will usually get an idea of the period and genre though, so you can do some research on the typical looks that might be created.
Prep your kit
Knowing the period and genre will help you plan what to take in your makeup kit – if it's a sci-fi, take some Pro-Clean cleansing oil in case the actors are wearing prosthetic makeup, and don't forget your hair rollers for a Victorian drama.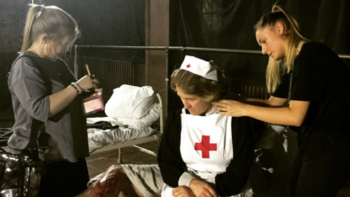 Don't forget your personal items
As well as your kit, don't forget to prepare your personal items. Filming doesn't always happen in a warm studio.
Vice Principal, Tamsin, says: "You could be filming outside in all the elements – rain, snow, scorching heat, on land, sea or sky!" You're totally at the mercy of the elements, so pack clothes for all weathers. And if you're filming abroad, don't forget your passport!
Charge your laptop and phone
You don't want to get caught out with a dead battery, so make sure your phone and laptop are both fully charged in case you need to look up any reference material or emails.
In the makeup room:
Once you arrive at the filming location and you've checked in, you'll be directed to the makeup department.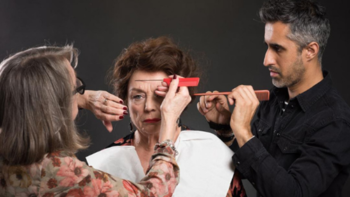 Put your phone on silent
The first thing to do is to put your phone on silent. Any noise can be picked up by microphones, even a vibrating phone. Plus, it can look unprofessional if your phone rings while everyone's working hard to get actors ready in time.
If you need to head to set, leave your phone in your bag as they can interfere with sound equipment, even on silent.
Set up
Get the workstations ready and make sure there's plenty of consumables, such as cotton buds and tissues for the day.
The makeup department can go through endless amounts of these and, often, it'll be the trainee's job to re-order items that are running low.
Familiarise yourself with where everything is
Take the time to learn where things are. Knowing where things like fresh towels or tea and coffee are kept will mean you can grab them quickly.
Know your responsibilities
Film and TV sets are fast paced so don't be surprised if you're not given too much direction.
Generally, trainees are expected to run errands like grabbing lunch, keep workstations and tools neat and tidy, and help actors remove makeup at the end of the day.
On-set:
Once filming starts, you might be asked to go to set to be on-hand for anything the makeup artists or designer need.
Be aware of your surroundings
One of the most important things on a TV or film set is to be aware of your surroundings.
There's lots of wires, expensive equipment and people in what can sometimes be a cramped space, and you don't want to trip or knock anything over.
Be on standby
A trainee's job on set is to be on standby for final touches or errands for the team. This could be applying lip colour or running back to the makeup room or bus to grab any products the team have forgotten.
It's good to find a spot where you can stand out of the way but be available in case anyone needs anything.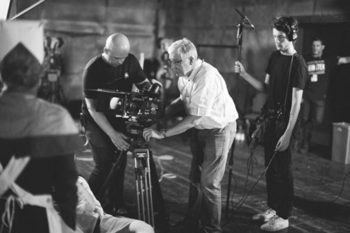 Shhh!
Keep quiet while the cameras are rolling and keep as still as possible. And once the Director says 'cut', stay where you are because there may be another take.
Don't move until the Director signals that the scene is 'complete' or the Assistant Director or MUA asks you to do something.
Get continuity pictures
Once a scene has been shot, the actors will hang around to get continuity pictures taken and there will be some time for you to go in and photograph the looks.
If the camera flash is on, make sure to shout 'flash!' so everyone around you knows to expect a bright light.
At the end of the day:
The hair and makeup teams are often the first to arrive and the last to leave. So once filming has wrapped for the day, there's still plenty of things to do.
Get things ready for de-rigging
If you're in the makeup room or bus while the final takes are being shot, prepare some hot towels for 'de-rigging' or, helping the actors take off makeup. You can also set out wipes, tissues, and cleansing products so they're on-hand for anyone who needs them.
Iver graduate, Jenny, told us that at the end of the filming day, "I make sure everyone's stations are tidy and that we have plenty of stock – especially tissues and wipes because these go fast!"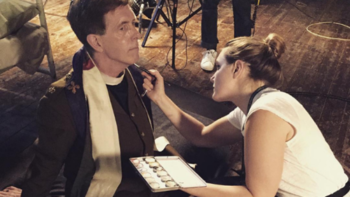 Tidy up makeup artist's workspaces
Once the actors have left, tidy all the workspaces and turn off all the equipment – hair straighteners, dryers, etc.
If you're using any wigs for filming, these will usually need to be redressed ready for the next day.
Prep for the next day of filming
Finally, check the new call sheet for the next day's filming.
It'll give you information about your arrival time, the filming start time, and the scenes which will be shot so you'll have an idea of the hair and makeup looks you'll be working on.
Learning the unspoken etiquette for hair and makeup artists is all part of the job. So, following these simple tips will help make sure your first trainee job in film and tv goes to plan.
We also prepare our students with our Portfolio Building and In-house Filming Project which offers the opportunity to experience exactly what working on a film set is like.
If you're looking for more advice on kickstarting your career in the industry, get in touch.