Stuart Bray
Wednesday, December 14, 2016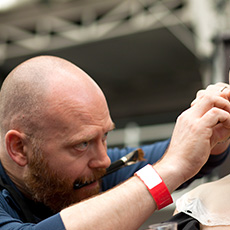 Stuart Bray tutors further prosthetics at the Iver Make-Up Academy and gave us a little insight into his life in film.
I liked monsters as a kid and that led me to want to find out how monster movies were made.  I discovered makeup and prosthetics through this interest.
I think the best things about this work is the satisfaction of creating things and problem solving, over coming technical issues.  The toughest challenge for me were the Autons for Doctor Who.  They were shop dummies that came to life in the episode 'Rose'.  It was a technically difficult project to a very tight schedule.  Game of Thrones was a tough one also as I was up at 1am!
I've worked with Rik Mayall, Michelle Pfeiffer, Dom Joly, Benedict Cumberbatch, Michael Fassbender and Simon Pegg.
You have to be good at what you do and constantly practice.  You must be proactive in gaining contacts and seeking out new opportunities.  It's hard to get into a creative industry and have it pay your bills at the start.
I think for the future, the definition of image will increase, so cleaner and more natural work will be important.  Digital work will become more common and the computer is only a tool.  It is used to solve the same problems as a brush or a piece of rubber is. I would suggest you learn how digital work will effect you and learning photoshop is helpful too!
Take a look at Stuart's YouTube and Instagram Stuartbray73, and his podcast on ITunes "BATTLES WITH BITS OF RUBBER"