Tutor Jane Maier – My Journey
Thursday, March 9, 2017
I was persuaded by my father to go to university rather than art college, even though art was my passion. With my English degree, advertising and marketing was an obvious career choice, but over the years I grew increasingly frustrated at always selling other people's creativity and not being allowed to be creative at work myself.
My hobbies were art orientated – I sculpt & paint and I have a passion for fancy dress when the opportunity arises, but I couldn't imagine how I could use this talent to give myself an income.
I met a friend I'd not seen in ages who suffers from vitiligo – patchy loss of skin pigmentation.  Her skin was looking totally even and when I asked if she was 'cured' she explained she'd just found a good cover make up and was colouring patches herself.  Amazed, I said she should become a makeup artist, but she turned the tables and suggested I should! I had a total eureka moment and knew that this was the solution that would allow me to work and fulfil my creative needs.
I researched amongst friends working in TV & film and Greasepaint was suggested as the best college I could go to.  Before I started at Greasepaint, I admit to a niggling doubt – with my dad's voice at the back of my mind – that I would find the tutors and the course – not clever enough for me.  It was so exciting to find that I couldn't have been more wrong.  The tutors were all incredibly talented, clever and capable to a level I could only ever aspire to, and I quickly realised that the work of a makeup artist is incredibly challenging, in so many ways.
I've been a freelance makeup artist for 15 years now and I can honestly say that my decision to train in stage and screen makeup, was the best decision I have ever made.  My only regret is that I didn't decide on this career when I left school.
There are downsides to a career as a freelance makeup artist – it's competitive, being freelance is uncertain and this uncertainty means you have to accept work even if it interferes with your social life. I was filming abroad for my son's 18th and 21st birthdays.  The hours can be long and hard and you can start at ridiculously early hours on a frequent basis.
However, I absolutely love the work I do and it has taken me places and allowed me to be creative, in ways I could never have dreamt of.  From doing a horror makeup on Damien Hirst,  teaching in Kuwait, being personal makeup artist to the charming actor Robert Lindsay and running a crowd room for Harlots, a fabulous series set in 1763 about brothels.  I've also recreated neanderthal man for a docudrama, designed a blue alien for the series 'Black Mirror' and of course teach at The Iver Make-Up Academy.  The variety of my work continues to be vast and colourful.
I earn a liveable salary but the financial value of the work does not compare to the great pleasure that my makeup career gives me.  It's my passion.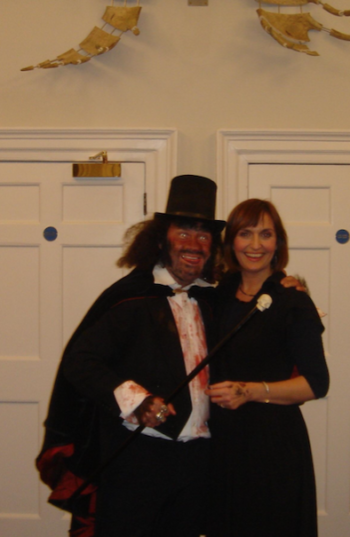 Jane and Damien Hirst