How To Become A Makeup Artist For Film And TV
Tuesday, December 10, 2019
If you love makeup, have good creative skills and are thinking about your next steps towards a career, why not consider becoming a makeup artist in the TV and film industry?
It may seem a massive step from creating a Halloween look to designing SFX makeup for a top movie, but not when you have the right teachers and experience. Whether you're studying GCSEs, A-levels or going to university, with guidance and support from industry experts, you can get the right qualifications which will land you the jobs to build a satisfying career.
How to become a makeup artist
There are many routes into the profession, from internships to studying hairdressing first, before progressing into makeup training. In fact, a background in hairdressing is often recommended, as the two skills go hand in hand. In the UK, many departments want the team to be able to do both hair and makeup.
Vice-principal of The Iver Make-Up Academy, Tamsin Barbosa, who was Emily Blunt's hair and makeup artist on Mary Poppins Returns, has some sound advice: "You can't start at a specialist vocational training academy until you are 18, so if you need to go somewhere after GCSEs, I would suggest doing a two-year hairdressing course. A background in hair will always help when you start your training and will never be a waste of time."
Regardless of the course you're considering, you should ensure any training involves plenty of practical working and work experience. Our tutors are leading professionals who are still working in the industry. This means they have great connections and also know the value of hands-on, vocational, practical learning, which can be the key to finding successful roles after your training is complete.
University media makeup courses can often involve a lot of theoretical work but may not cover enough of the practical craft skills, or provide the opportunities to make the connections you need to land jobs after graduating.
What qualifications do you need to become a makeup artist?
Entry requirements vary depending on the course level and type of course. For some, you may need two or more GCSEs at grades 9 to 3 (A* to D), or equivalent, for a Level 2 course and four to five GCSEs at grades 9 to 4 (A* to C), or equivalent, for a Level 3 course. Higher education courses will require A-level or equivalent qualifications.
For our own courses, you don't need specific GCSEs or A-levels, and on the beginners courses you don't need any previous experience – just a passion to learn and a good level of artistic ability.
What skills will I need?
Do you have the right skills to be a makeup artist?
You'll need to be creative and talented with hair and makeup, work well in a team, pay attention to detail, be flexible, use your initiative and remain calm in stressful situations.
The best assets you can have are stamina and professionalism. Long and unsocial hours are standard, including weekend work. Before filming on set begins, you'll be needed for prep days, fittings and makeup tests.
Working on a movie or TV series is physically demanding – you're often the first and last person on set, getting prepared before applying the actor's (or actors') makeup, prosthetics and hair and wigs. Filming is routinely a 12-hour day, often outdoors on location, and you have to be on set with your actor for every shot to touch up makeup and ensure continuity is correct.
Once the cameras have stopped rolling, you have to take off the makeup and prosthetics and redress wigs ready for the next day's shoot.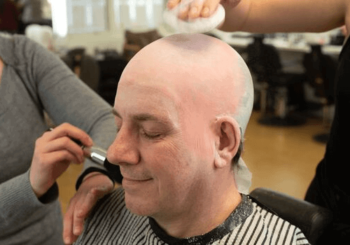 A challenging but satisfying career
Working as a TV and film makeup artist is challenging, yet creative, satisfying and enjoyable. You'll learn how to do makeup for television, making sure the news anchor doesn't look washed out in the lights; creating accurate wigs and looks for a historical drama or designing special effects makeup for major sci-fi or horror films.
Apart from designing and applying makeup, an experienced TV or film makeup artist will be expected to:
Interpret the makeup requirements of directors, producers, actors and singers, to produce creative and accurate representations of their ideas
Communicate with colleagues in a professional manner
Read and breakdown scripts to work out the materials and looks required, any budget implications and identifying areas where research is required
Sketch designs for hairstyles and makeup
Ensure continuity in hair and makeup and liaise with other members of the design team. This is vital as any flaw or inconsistency will be magnified on a cinema screen
Have a practical understanding of lighting, the photographic process, colours and the impact of special effects makeup and prosthetics on the skin
Minimise side-effects from the use of specialist makeup and hairdressing techniques
Be aware of relevant health and safety issues and legislation
Be able to fit and maintain wigs, hairpieces and prosthetics
Be a good all-round hairdresser
Source, budget and order materials from specialist suppliers
Have excellent time management skills – knowing how long an actor or model will take to be made up
Work quickly and accurately in time-pressured conditions
Work confidentially. You could be working with big-name stars at 5.30am while doing their makeup, so discretion and professionalism are paramount
Take detailed notes and photographs of your work for continuity
Why networking is so important
Connections and networking are an integral part of finding work – most makeup artists are self-employed and work on a freelance basis, so knowing the right people is vital. Our tutors are highly-respected artists working in TV, film, fashion and theatre, with excellent contacts within the industry.
But aside from making contacts through your course, how else can you develop your network?
Tamsin Barbosa suggests: "Be prepared to work for free or expenses only at first, so you can build your contacts. And take any opportunities offered to you – there is often an element of being in the right place at the right time. This won't happen if you are sitting at home waiting for the phone to ring."
As well as recommending work experience opportunities during course-time, all graduates of our full-time courses are automatically signed up to our Iver Agency. As an agency member, our team will help you find those all-important placements, work experience jobs and even paid opportunities across TV, film, events and theatre productions. You can find out more about our free Iver Agency service and how we support our graduates here.
Getting as much practical experience under your belt as possible is vital. It's important to build up a portfolio of work. Volunteer with local theatre groups; ask for work experience at studios and approach university film and fashion departments.
When you're just starting out, expect to be a trainee for at least two years before moving up to a junior level in films (although TV, theatre and fashion can be different). This will teach you how a set works. A trainee's tasks include setting up workstations, maintaining stock levels, general running duties and filling in continuity sheets.
There's something to learn (and more people to network with) at every job. It's a crowded, competitive industry, but one in which hard work, persistence and skill pays off and is rewarded, so be patient!
If you want to learn more about what it takes to be a makeup artist for film and TV, check out our courses or get in touch with our friendly team.