Up Close With Romaine Bowman
Thursday, March 30, 2017
This week our students reaped the benefits of tutoring by wig expert and make up artist Romaine Bowman. Romaine has a love of art and creating – sculpting hair and special FX and has years of experience in TV, Film and Theatre.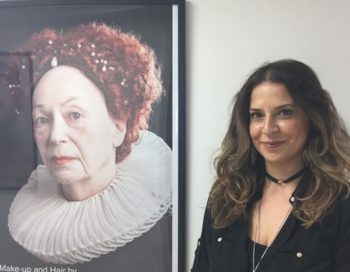 Romaine with one of her wigs
"I get paid to do a job I love.  I can be creative and get to work with amazing people.  I've been to locations I'd never have dreamt of going to.  The research aspect is really interesting.  When I worked on Horrible Histories, I learnt so much and it stayed in my mind and I learnt more than when I was at school (in one ear and out the other!).
Hair and Make-Up designers I have worked with are Daniel Phillips, Kate Benton and Nicola Collins amongst others.
I've worked with Patrick Stewart, Robert Lyndsey, Joanna Lumley, Simon Pegg and Maisie Williams to name a few.
You need to be a sponge and soak in everything around you.  Learn from the designers you work with and think of fresh or new ideas as well.  Think on your feet and love your work!  It's creative, fun and very hard work, but always worth it.
There is also nothing wrong with working your way up.  Do not be too eager to jump ahead.  It takes years of experience to get the best results.
I once worked on a terror film for Eli Roth's horror channel.  1am, in the dark in the middle of a field and was told 'we want to rip a tooth out- can you make a tooth and effects right now in 30 mins'.  I managed to find a bit of silicone, cut it into a tooth shape, fresh scratch, fake blood, tuplast and greasepaint.  The end result looked fantastic.  I couldn't believe it!