Student Success – Alesha Ledeatte-Williams
Thursday, June 24, 2021
The Iver Makeup Academy is one of the leading Independent Further Education training schools in the country for makeup, hair and SFX artists. The academy is industry recognised and accredited by ScreenSkills Select, and we pride ourselves in providing a pathway for our graduates direct into the screen industries.
In this post, we explore the story of one of our fantastic graduates, Alesha Ledeatte-Williams, who has embarked on a wonderful professional journey following her time with us.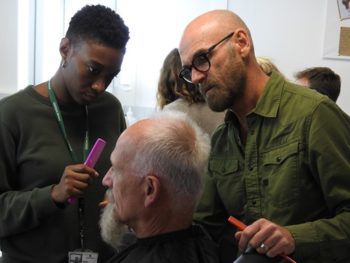 The first steps
Having started her career as a freelance makeup artist, Alesha decided to build upon her skillset to be able to secure more work within the TV and film industries. Alesha assessed her options as to what might be available after winning a BAFTA scholarship, which led her to The Iver Academy. As she said: "Iver had one of the most comprehensive courses available and the experience of the staff was a huge attraction for me."
Alesha was so committed to her future in the industry that she signed up for the 30-week Advanced Course in Makeup and Hair Artistry and she hasn't looked back since!
 The experience
Having enrolled in the course there was a lot of work in store for Alesha, but exciting times lay ahead. The transition was made easier by the staff at Iver and Alesha recalls having a fantastic experience at the academy, saying: "I don't think I've ever applied myself so diligently to any education in the course of my life so far. I loved it all. Even the things I wasn't very good at."
Whatever course students choose at Iver, they experience the full spectrum of the screen industries and techniques. We are thrilled to produce graduates who are skilled in all areas rather than being absolute specialists in any particular area, but nonetheless, they often come out with a keenness for certain facets, as Alesha suggests: "I like fantasies and period dramas. These have the densest storylines I find and therefore the most scope for hair and makeup."
A key highlight of the course for Alesha was the rich experience that the tutors have in the industry, sharing their passion and knowledge with the students. One of Alesha's favourite memories comes from acquiring a treasure from Principal, Liz Tagg-Wooster: "I discovered that the foam latex we used in class was from the actual Band of Brothers! Liz kindly signed a piece, and I shall be bequeathing it to any offspring I acquire."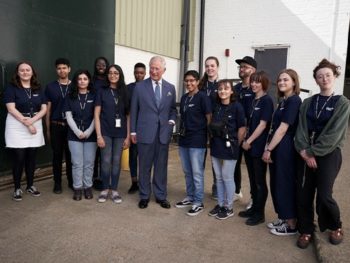 Prince Charles visiting the sets of No Time to Die (James Bond) in 2019
The career
Since graduating from the Iver Academy, Alesha has embarked on a thrilling career, working on productions such as Batman, Cinderella, James Bond, and Sex Education.
Whilst every job is an exciting opportunity, they frequently bring with them challenges for makeup and hair artists to overcome, which continues to offer constant professional development. Alesha is particularly proud to be part of an industry which still lacks diversity and encourages others to join the industry: "I'm proud to be part of the industry. It always surprises me when I meet non-white actors and actresses, stunts or crew and they tell me I am one of the first black hair and makeup artists they've ever seen in their sometimes quite lengthy careers. I didn't realise that the industry lacked diversity before I joined. So, I guess my favourite thing is just being able to cater to the nuances that are tied to the specifics of my diversity. I try my best at every opportunity."
The experience gained at Iver also provides an impressive portfolio to show to potential employers after completing the course, putting graduates in a strong position to secure amazing opportunities. Alesha's view backs this up, saying: "I've been very fortunate to be in a position where I've had to turn down work during the pandemic."
If you are inspired by Alesha's story and are seeking to build your skill set, or if you're just starting out on your professional pathway, then why not look through the courses we offer or contact us directly to find out more.