After graduating one of our courses at The Iver Makeup- Academy, there are many opportunities for work through the IMA Agency as well as through the connections our fantastic industry tutors have.  
Ant-Man and The Wasp: Quantumania is the next instalment in the Marvel Cinematic Universe featuring Paul Rudd, Evangeline Lilly, Michael Douglas, and Michelle Pfeiffer released on 17th February 2023.  
Renata Gilbert, one of IMA's academic consultants, was Crowd Supervisor on the film. Her team consisted of many artists, as well as over 25 IMA graduates.  Some our very own renowned tutors such as Mona Turnbull, Jess Heath, and Tiffanne Williams have worked on the production of the third movie in the franchise on location as well as at Pinewood Studios, Iver. 
"We had the most amazing make-ups to do consisting of tall bald blue men and women with gold veining tentacles."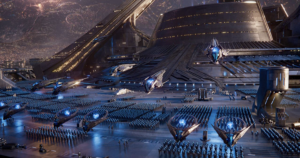 What was it like behind the scenes?
Renata was able to give us some insight of what she and her team had to do to create the crowd characters in Ant-Man and The Wasp: Quantumania.  
Bald caps were applied with a blue tattoo paint, topped with semi-permanent tattoos to represent beautiful gold veins, all made by Connor O'Sullivan.  The makeup tests took 3 and half hours to complete after attaching the 5ft tentacles. This was reduced to an hour and a half by the time filming started.
Below shows Reneta Gilbert teaching bald cap application at The Iver Makeup Academy. 
View our Bald Cap course here.
Another crowd character nicknamed 'Ribbon Man', consisted of a prosthetic forehead, face art, and architectural hair made to look like ribbons which took a total of 3 hours and 30 minutes to complete. This look was then transformed even further in post-production with CGI to make the 'ribbons' move.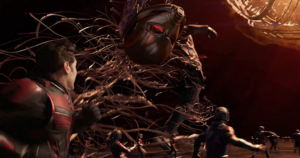 Renata explained they also used the art of Kintsugi to design prosthetic pieces. Kintsugi, also known as Kintsukaroi, is the Japanese art of repairing broken pottery by mending the areas with powdered gold. The prosthetic was jet black with gold fissures taking a total of 2 hours and 15 minutes to apply. 
 'Bubble Head' had a beautiful prosthetic with an iridescent undertone which made it very complex to blend into the face to create a seamless finish. 'Stoneman' took around 3 hours and 15 minutes to create due to the several prosthetic pieces that were applied all over the head, which were then coloured to represent various different types of stone.  
How many of these background characters were you able to spot throughout the movie?
The earliest call in the make-up chair was 4:00am with most usually wrapping by 20:00pm. The team worked incredibly hard over the last year, and were able to produce great work whilst having great fun!  
Want the opportunity to be taught by our award-winning teaching team? – view our variety of courses here.
Also join us for our Open Day and Taster Course to gain a further insight into the industry.