Student Success: Amelia's Amazing Career Progress After The Iver Makeup Academy
Wednesday, March 30, 2022
The Iver Makeup Academy is one of the leading makeup, hair and SFX training schools in the UK. We're proud to provide our graduates with the professional skills they need for fulfilling and long-lasting careers in the screen industries.
In this post, we share the story of one of our fantastic graduates, Amelia Paul, who has embarked on an exciting professional journey as a makeup artist for film and TV.
First steps
Amelia has been a film buff since childhood, so the film industry was always on her radar. When she was 18 years old, she discovered a passion for hair and makeup and the two interests seemed to click together. Amelia says, "I was feeling very deflated after dropping out of a makeup course at my local college. It just wasn't up to standard and I was feeling very lost."
Her mum booked her a taster course as a surprise for her 18th birthday. "That taster weekend was the best present I have ever received, and I knew from that point on this industry was for me." She successfully applied for The Iver Makeup Academy's 30-week Advanced Course and hasn't looked back!
The experience
During her 30-week training, Amelia learnt a huge range of skills including TV/film hair and makeup, special effects (SFX) and prosthetics application, hairdressing, barbering, wig dressing and body painting. She learnt these skills from tutors who are working artists with experience working on a range of high-profile films, TV, Fashion, Theatre and events.
Amelia loved her experience: "I can genuinely say that my experience with The Iver Makeup Academy was absolutely amazing. The tutors were incredible at making me feel that I could succeed." Amelia's favourite part of the course was learning about special effects and how to apply prosthetics. However, she felt proudest of being able to work with wigs and hair: "It's more beneficial and rewarding to work on the elements that you don't find come naturally to you."
Among the many highlights of her time at The Iver Academy, her last two weeks were her favourite due to the Filming live brief provided. "We got to work on a small scene and go through the whole process of the script breakdown, prep and the application of hair and makeup as if we were actually doing a film."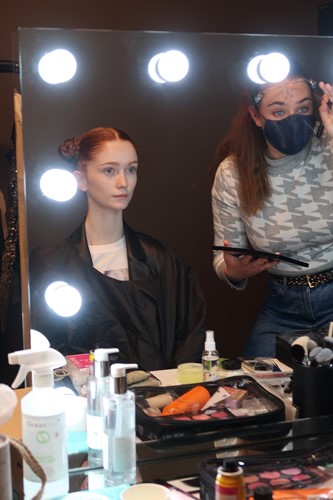 The Career
After graduation, The Iver Academy's unique agency continues to offer support by helping graduates consolidate their skills and find work in the film industry. Following her graduation, Amelia worked on an Amazon Prime short film, as well as several commercials and music videos. Last year, she was offered an opportunity to be a main trainee on a Disney Film for the best part of five months, which she calls her "proudest moment yet." As Amelia has discovered, you never stop learning when working in makeup and hair for the screen industries. She says, "My favourite thing is being able to learn from so many incredible artists; I'm like a sponge and want to soak up every bit of knowledge I can."
Amelia's favourite film set experience has also been the most challenging. She had the opportunity to work on one of the world's biggest movie franchises, Marvel. She says, "It's definitely been a pinch myself moment and was so rewarding in every way imaginable." However, it also had its drawbacks: "The hours were gruelling at times and that was the most challenging part, but the hours become part and parcel of the industry and you just learn to adapt over time."
There is so much demand for content to be made for all the streaming platforms. "I feel now, more than ever, there is a demand for more films and TV series to be made so actually there are many opportunities and it's very busy."
Describing herself as a "massive film buff," Amelia's favourite films in terms of makeup are easy to choose – Quentin Tarantino films (her "favourite director of all time"), who will undoubtedly be a top source of gory SFX .
Start your own makeup artist journey?
If you're wondering how to start a successful career in the Media Makeup industry, why not attend our next Open Day? All of The Iver Makeup Academy's courses take place at Pinewood Studios. You can also contact us directly if you have any questions about training in Makeup and Hair artistry.