Student Success: Graduation to Succession with Katy Filipe
Situated within the heart of Pinewood Studios London, The Iver Makeup Academy is the best place to learn innovative skills and techniques to get ahead in the makeup industry. We offer a range of courses, from two-day taster hair and makeup courses to a 30-week comprehensive Advanced Certificate in Makeup and Hair Artistry.
Graduate Katy Filipe, left The Iver Makeup Academy in 2020 with a certification from our Advanced Certificate in Makeup and Hair. We wanted to catch up with Katy about the exciting jobs she has been a part of since graduating!
What first made you want to begin working in this industry? When was that, and how old were you?
I started to love theatre when I was little when I went to see The Lion King but I never really knew until I was about 16 that hair and makeup was an actual job you could do!
How did you find out about the Iver Academy and why did you decide to join?
I have a family friend who went to Grease Paint and couldn't recommend it enough, when I researched obviously The Iver Makeup Academy kept coming up.
What course did you do?
I did the full Advanced Certificate in Makeup and Hair Artistry
Register for our Advanced Certificate
What was your experience like studying with the Iver Academy?
My experience was amazing, I would honestly recommend it to anyone. I learnt so much and made some incredible friends along the way, I still look back at the notes I made 3 years ago because we were given so much information.
What was your favourite element/subject throughout your studies?
I loved SFX makeup and Avant Garde hair. I came to IMA very apprehensive of hair and a bit scared of it, but ending up becoming a favourite of mine!
Favourite moment whilst studying at Iver?
My favourite moment was probably seeing my prosthetic piece finally come together!
What releases have you worked on since graduating?
I've worked on: Mission Impossible 7, Matilda, Bridgerton S2, Ant Man  and The Wasp – Quantumania, MastersOf The Air, The Diplomat S1, Snow White
What has been the favourite film/tv programme/project that you have worked on so far?
I think my favourite so far has been The Diplomat. It was my first contracted job and it was main team, I learnt so much and the rest of the team were amazing
What has been the most challenging project?
The most challenging project was probably Ant Man and The Wasp – Quantumania. It was my first job that was more than a couple of days and the hours were so long, but it was so hands on and we got to help the artists every morning doing bald caps and other huge looks.
What aspirations do you have in terms of future projects?
I'd love to do some more big blockbuster films, and to hopefully move up to a junior very soon!
What is your favourite thing about working in the industry that you do?
I love how much of a family everyone becomes. We're all doing the same long hours and facing challenges together, but everyone has each others backs. I love how passionate everyone is and how much time people have for trainees with giving advice and showing how they do things.
How has the industry and your role been affected by the impact of COVID? How hard have you been this period? And what changes could you envisage to the industry long-term, if any?
Unfortunately I graduated in March 2020 when the whole world shut down, so when things started to go back to normal I found that productions were already crewed and restrictions meant smaller teams/ no dailies. I found the first year of graduating extremely hard and also felt like I lost a lot of confidence due to not having to do hair and makeup for about 9 months. There was only so much I could do on my boyfriend!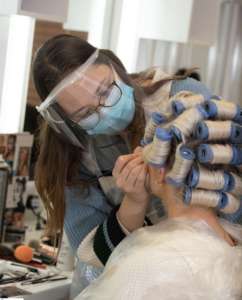 What is your favourite film?
My favourite film is definitely Mamma Mia
What is your favourite film in terms of the make-up and effects and why?
I love The Grinch! I think the prosthetics are incredible and how long they had to work every morning. And it's a great Christmas classic.
Who would you most like to work with/for ie actors and directors?
A director I'd love to work for is Steven Spielberg. I love his films and I think It'd be such a good experience to work for someone so well known and sort after
What is your favourite film genre in a professional sense and why? Why do you enjoy working in this particular genre?
I love SyFi/ Fantasy, I think the creativity is endless with these genres and kind of anything goes! Some of my favourite series in term of Makeup is fantasy like The Witcher and things like that. I think the hair and makeup is always so interesting and different!
Looking to start your own career in this industry?
If you want to find out how to start your career in this industry, take a look at our variety of courses or sign up to our next in person Open Day  to see our students and graduates in action!