The Proms with

Christine Vidler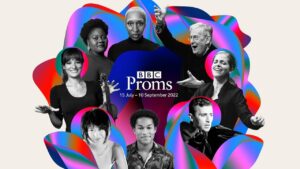 Every summer The Royal Albert Hall in London hosts a music festival known as The BBC Proms. The Proms have been running since 1895, when it was founded by Conductor Henry Wood and broadcasted on the BBC. The idea of the event was to showcase the best classical music to the biggest audience possible. In more recent years it has embraced many genres of music performed by some of the most talented people throughout the globe.  
Christine Vidler has been the hair and Make-up Designer on The BBC Proms at The Albert Hall in London for many years and always has IMA graduates working with her.  Christine has been a Hair and Makeup Artist in the Fashion, TV and Film Industry for over 40 years and has worked with a long list of actors, actresses, models and sports personalities. Christine is also an Iver Academy Academic consultant and tutor.  
(Christine On stage at The Royal Albert Hall and Choir Rehearsals on the South Steps) 
Christine said: "Many graduates from The Iver have worked with me on this and last year I had a trainee with me throughout the whole season. This year she worked backstage for me with all the soloists and performers and I took another graduate with me for the full season. It is a great experience for them. They work with the most amazing performers and celebrities from all over the world and get to work in one of the most iconic places in our capital city." 
The three IMA graduates that assisted Christine at The Proms this year were Louisa Collins, Holly Elmes and Megan Kurt.  
Louisa Collins graduated in 2021 when I asked about her experience at The Proms she said "I was lucky to have the chance to work with Christine at the BBC Proms this year. The experience was fantastic, I learnt so much from working with Christine and feel I'm a more confident makeup artist as a result. I met a lot of great people who made me feel truly welcome and encouraged."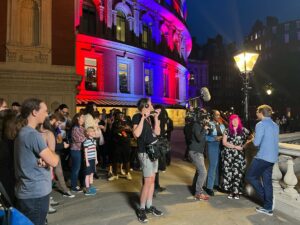 (Interviews outside Royal Albert Hall for Gaming Prom. Hair/Makeup by Christine and Louisa) 
Holly Elmes graduated from the Iver back in 2020 she said "It was wonderful to work on the BBC Proms this year. It was a fantastic opportunity to become immersed in such an iconic event. I looked after some incredible musicians and dancers and got to be really creative. I loved it!" 
(Dancers at the Printworks Prom Hair/Makeup by Holly and Louisa.) 
I asked Megan Kurt about her experience at The Proms she also graduated in 2021. She said "Working on the BBC Proms has been an amazing experience. Using all the skills that I learnt during my time studying at the Iver, I have been able to meet and make up some incredibly talented people, all of different skin tones and textures. It has been wonderful to work with my tutor Christine, who is the Hair and Makeup Designer, and I'm so grateful for the opportunity."

(Jess Gillam – Prom Presenter, Hair/Makeup by Megan Kurt) 
Iver Make-up Academy Agency opportunities are open for all graduates including working with our fantastic Tutors, which has given them a foot in the door. If you would like to start your career as a hair and makeup artist, contact us today. Or join us on our next Open Day.