A Closer Look At The Bafta 2022 Makeup And Hair Nominees
Thursday, March 3, 2022
It's one of our favourite times of the year here at The Iver Makeup Academy – BAFTA Awards season. The British Academy Film Awards (BAFTAs) celebrate the best British and international contributions to film in the past year, including a category for 'Makeup and Hair'. Each year, we are delighted to see nominations for films our graduates have worked on. This year is no exception. When the BAFTA Award nominations were announced, our graduates had worked on four films (The King's Man, Last Night in Soho', and 'No Time to Die') made the 2022 longlist for the best makeup and hairstyling. We're proud to announce that one ('Cruella') made it to the final shortlist.
The BAFTA Awards take place on Sunday 13th March, and we'd like to wish all of the nominees the best of luck. When it comes to makeup and hair, every single nominee deserves to be on the shortlist. We're going to take a closer look at each of the films nominated in the Hair & Makeup category and highlight what makes their achievements notable.
'Cruella' – Nadia Stacey, Naomi Donne
Nadia Stacey has already won a BAFTA for best makeup and hairstyling for 'The Favourite' (2018). Working with Emma Stone again, she reinvented the look of one of Disney's most iconic villains. The film shows Estella's dramatic transformation into her heavily made-up alter ego, Cruella de Vil, complete with alabaster skin, smoky eyes and blood-red lips. But most strikingly, she sports that trademark wild black and white hair. Nadia took inspiration from the punk rock era, avant-garde hair shows and RuPaul's Drag Race.
Naomi Donne was in charge of Emma Thompson's makeup, which was more composed compared to Cruella's experimental, chaotic look. A number of our graduates worked on this production, which was a fantastic opportunity to put their skills to practice on a blockbuster film. In one scene, each extra wore Cruella's hair, which involved more than 120 wigs and a lot of work for the team!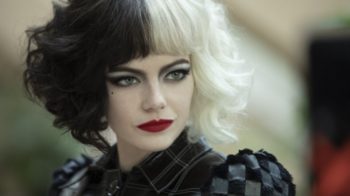 (image courtesy of BAFTA film awards)
'Cyrano' – Alessandro Bertolazzi, Siân Miller
In 'Cyrano', the self-conscious protagonist uses his talent for romantic poetry to woo the beautiful Roxanne. The film's director, Joe Wright, had a clear vision that minimal makeup was key to creating an uncontrived look. Makeup designer Alessandro Bertolazzi took a chance by using just one shade of red and adapting it to each character, and this innovative move paid off. Hair designer Siân Miller drew inspiration from 18th-century artist Jean-Antoine Watteau's works, so she used traditional wigs made from yak and goat hair but updated them to be accessible for contemporary audiences. Peter Dinklage's appearance was boyish, but subtly changed so that by the end of the film his hairline was slightly receding and peppered with grey. At Iver Makeup Academy, we teach students how to apply makeup and style hair for period dramas like 'Cyrano'.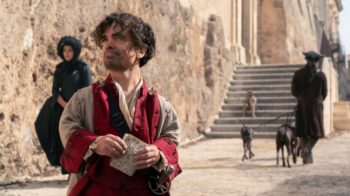 (image courtesy of BAFTA film awards)
'Dune' – Love Larson, Donald Mowat
The science fiction film 'Dune' features a universe of interesting characters with distinctive appearances. Makeup designer Donald Mowat created several looks including nomadic, tribal and otherworldly. They range from naturalistic (Timothee Chalamet, Oscar Isaac and Rebecca Ferguson) to terrifying. Most notably, Stellan Skarsgård's enormous villain Baron Harkonnen was achieved using practical makeup, including seven pieces of facial silicone and a body that took 16 weeks to build. It took seven hours a day to apply the makeup and two hours to remove it.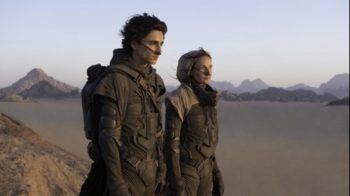 (image courtesy of BAFTA film awards)
'The Eyes of Tammy Faye' – Linda Dowds, Stephanie Ingram, Justin Raleigh
Jessica Chastain's jaw-dropping transformation into televangelist Tammy Faye Bakker is a frontline contender for the Academy Award for best makeup and hairstyling. She spent an average of four hours in the makeup chair, but the makeup gets heavier as Tammy Faye gets older so the longest session lasted seven hours.
The makeup artists used 3-D modelling and traditional casting cheek prosthetics to widen her face, added volume around her chin and neck, and created wrinkles. On top of that, they added lots of pink, blue and lilac shades. Our tutors can show you the best techniques for using makeup to subtly (and not-so-subtly) age an actor. The makeup team recreated Tammy's signature spidery eyelashes by coating L'Oreal Voluminous Original Mascara over false lashes as a substitute for the brand's discontinued Lash Out Mascara (her favourite).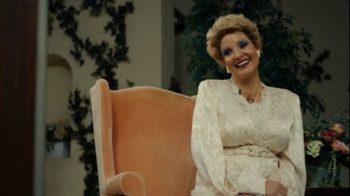 (image courtesy of BAFTA film awards)
'House of Gucci' – Frederic Aspiras, Jane Carboni, Giuliano Mariana, Sarah Nicole Tanno
The main purpose of the makeup team is to create a character and evoke a sense of time and place, which is what the 'House of Gucci' team achieved.  Lady Gaga's extravagant look as the infamous heiress Patrizia Reggiani spans the 70s to the 90s. The makeup artists spent countless hours researching and preparing, and hairstylist Frederic Aspiras dyed and styled at least 10 wigs for the leading lady. They embraced "power looks" for each decade to show her advancing wealth until her fall when her appearance became more careless, with ageing, ashen skin and unkempt hair.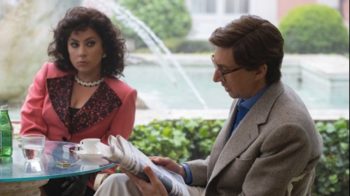 (image courtesy of BAFTA film awards)
Become an award-winning film makeup artist
Whatever course you choose at Iver Makeup Academy, you'll experience the full spectrum of techniques used for on-screen makeup. We give students the fundamental training and skills in all areas, from special effects and prosthetics to airbrushing and wig dressing. Then, if you prefer a particular area of expertise, you can go on to get specialist training.
We're based at Pinewood Studios, giving our students the opportunity to gain practical experience and learn from award-winning tutors who have worked on film sets. The Iver Makeup Academy has an agency that can help secure opportunities to work in the film industry for all course graduates.  BAFTA scholarships are also available at The Iver Makeup Academy. We're here to help you make the right choice, so if you'd like to learn more about our courses, please contact us.