Airbrushing 101 – Everything You Need To Know
Saturday, May 12, 2018
Airbrushing is an essential skill for any makeup artist to have. From achieving perfect-looking skin to creating amazing hair and body art, students at the academy are always thrilled to discover the possibilities the airbrush can offer. But what does it take to master the art of airbrushing?
We asked Jane Maier, tutor of our 5-day comprehensive airbrushing courses at The Iver Makeup Academy, for her thoughts on the benefits of airbrushing.
Through her work, Jane has worked on TV series like Black Mirror and Harlots, plus films including World War Z. She explains that when students are taught thoroughly about the airbrush – from using the equipment to products and cleaning – they discover the amazing work they can create with it.
Here's Jane's introduction to everything a makeup artist needs to know about airbrushing.
Q: What is airbrushing?
A: Airbrushing is a way of applying makeup with a small spray tool, and it's been around a long time. Historians debate whether it was invented by American, Charles Burdick, in 1893 or earlier in the 19th century by Abner Peeler or Liberty Walker. But 1959 was the year it became relevant to us as makeup artists.
When a thousand pale-skinned extras needed to look like ancient Romans in the Hollywood epic Ben Hur, the makeup team airbrushed on the makeup. Ever since, film makeup artists have been steadily incorporating the airbrush into their skillset. Designers of Sci-Fi film makeup spotted its potential for creating weird and wonderful skin effects. Prosthetics departments took the airbrush onboard for its versatility and precision in colouring and creating prosthetic pieces.
And now, with the common use of high definition filming, airbrush makeup has advantages over using conventional makeup for TV. By spraying on product in fine dots, it creates a camouflage effect that makes 100 percent sure there are no brush or sponge marks to be seen.
Q: How is airbrushing different to conventional makeup techniques?
A: One difference is the type of product you are airbrushing with – there are different types of base products you can apply with an airbrush, and each will give you a very different finish. You need a thorough understanding of the base liquid as this is really important to the overall effect a makeup artist wants to achieve.
The three principal skin spray products are:
– Silicone
– Aqua or water
– Alcohol or IPA
Silicone bases are sheer and can be blended easily so they work well for mature skin. And it has fantastic staying power, when applied correctly. But a silicone base requires time and patience. Just like nail varnish, if you rush to put more layers on, the bottom layers are trapped and never dry properly.
Aqua, or water-based foundations are more matte and dry as soon as they hit the skin. So it's perfect if you want to layer up colours and use stencils. An aqua based foundation worked really well for the blue alien in Black Mirror Series 4 Episode 1, because the makeup needed to be thick enough and not smear – and we wanted to get it on quickly.
Alcohol based makeup is the most durable. It can be used to create translucent special effects or long-lasting waterproof face and body makeup.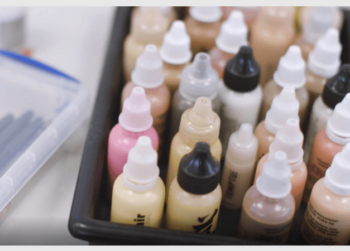 Q: What tools are used for airbrushing?
A: The two main tools used in airbrushing are the airbrush itself, and the compressor.
The airbrush is used to spray product on in fine dots. The compressor is the piece of equipment that pushes pressure through the airbrush. These comes in all different sizes and should have a dial which allows the artist to control pressure.
Learning the application technique is important, but so is understanding how to properly clean and maintain the tool for lasting use. After creating a look, the makeup artist should dismantle the airbrush and clean it with fluid, so no remnants of makeup are left behind.
Q: Why isn't it used more frequently in the industry?
A: While airbrushing is certainly very effective, it also isn't the easiest application technique. There's a lack of understanding around the kits, their maintenance and the way they work. Because of this, it's inevitable that issues like blocking and bubbling happen, and this can put makeup artists off learning and practicing this form of makeup application.
If you know what you're doing though, these issues are easy to fix and avoid in the first place. And that's why education is so important. When you're training to become a makeup artist, you should learn the ins and outs of airbrushing to be absolutely confident in it and unlock everything it can offer.
Makeup artists can do some incredible things with airbrushing, from beauty makeup to special effects makeup, and hair and body art. It's worth taking the time to learn.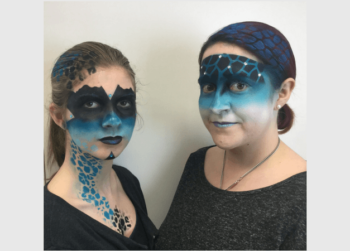 There's so much to be done with airbrushing, and proper training gives makeup artists the knowledge and confidence to create incredible looks for TV, film and theatre.
Find out more about what it's like to be a makeup artist by reading Jane Maier's career journey blog.